The Domaine de la Dombes is a real idyllic place for our animal friends. You can encounter until 150 animals over 30 hectares, living freely around the pond or in huge parks. 
The Domaine has 8 animal parks :
The little farm

 

The aviary

 

The stags and deers' park
The bisons' park

 

The Wallabys' park

 

The mouflons'park

 

The donkeys'park

 

The boars'park

 
Animals of the domain

Sleeping among the animals
Many lodges were set directly in the animal parks to guarantee a unique experience. Perched houses, in the treehouses or houses on stilts or troll in into the woods… what a unusual way to spend a night in Rhone-Alpes !
Discover our 15 lodges to spend a night among different animals : bisons, stags, deers, mouflons or even boars and their little ones !
Lodges in the middle of animals (Bisons – Stags – Fallow deer – Fawns – Mouflons – Boars – Marcassins)
A resident exclusivity :
if you booked a stay in our lodges or in our camping area, you have free access to our animal parks. Let's meet at the little farm for free commented feeding every day at 11:15am.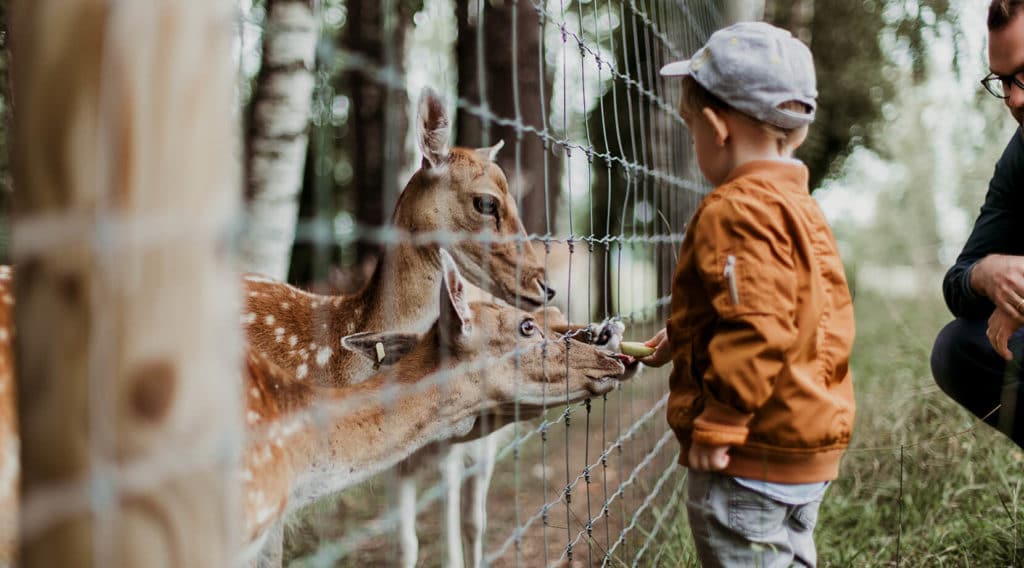 Book an activity with animals
For a family trip :
You are not sleeping at the Domaine, but you are looking for a fun activity to do in daytime ?
For a group trip :
You are a school group, an activity centre, a childcare centre or a nursery assistant and you are looking for a fun and original trip for the children ? We propose a tour of our animal parks, with a keeper.
3,5€ per child
2€ per chaperone
1,5€ for an educational booklet per child
The minimum service is 60€ worth and it will all be donated Ain'stinct Animal Association.
There is a possibility to combine with other activities.
Discover our Association
Ain'stinct Animal
You love animals ? We do too ! To contribute to their well being , and in order to raise awareness among the general public, the Domaine de la Dombes founded the Association Ain'stinct Animal in 2019.
You want to help us ? You were taken with a animal in particular ? You are receptive to the protection of the fauna ? You can join us.
Our actions